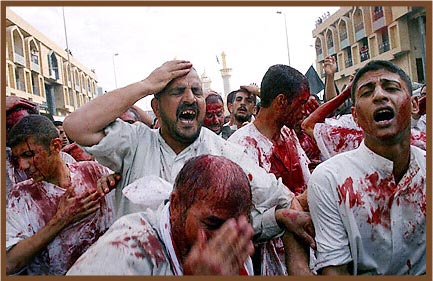 Arab violence is observed in some of their religious rituals. The example picture above shows a throng of Iraqi Shiite Muslims who cut their heads with swords in a ritual of shared suffering with Imam Hussein in Karbala, Iraq. Source: A. B. Woodall, Washington Post, April 23, 2003.
Understanding of the Arab-Israeli conflict requires an understanding of the different cultures involved in the conflict. Use of violence is common among Arabs to settle conflicts among themselves. Examples:
The most recent example is the civil war in Syria wherein the death toll is estimated currently as 60, 000 but probably is going to rise to over 100,000.
The number of dead in the Iran-Iraq war is estimated at over 1,500,000 -- see Google search.
Frequent Massacres in Algeria on religious differences -- see Google search.
The pictures below illustrate extreme violence among Arabs in Arab cities. Note that the crowd that surrounds the scene of violence and savagery watches idly without any sign of opposition. Thus, the public appears to accept these barbaric scenes as part of the daily life.
A body of a suspected informer hangs by his foot from a power pole as a crowd, including children, watches, in the southern West Bank town of Hebron, Tuesday, April 23, 2002. (AP Photo/Lefteris Pitarakis. Source: http://news.yahoo.com/).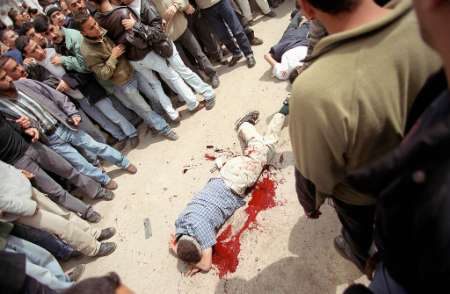 A crowd gathered around a suspected collaborator who was shot dead by Arab gunmen in the West Bank city of Ramallah April 22, 2002. (REUTERS/Henrik Flygare. From http://news.yahoo.com/).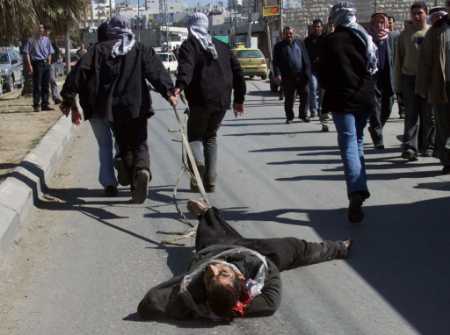 Arabs drag the body of a suspected collaborator along a street in Hebron, April 23, 2002. (Loay Abu Haykel/Reuters. From http://news.yahoo.com/)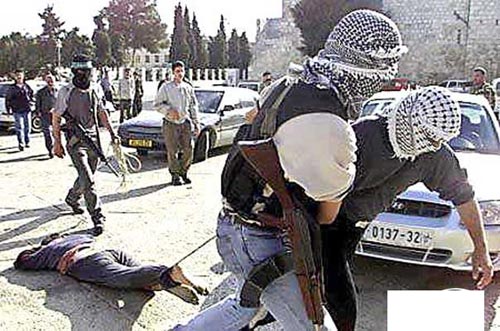 Arab militia drag a victim on the streets under control of the Palestinian Authority.
A question to ponder: If this is the violence observed among Arabs themselves, what is the violence they are capable of inflicting upon others? For answers see case of Suicide bombers in Israel and remember September 11, 2001 events in New York, USA; suicide bombings of Western targets in Saudi Arabia, etc.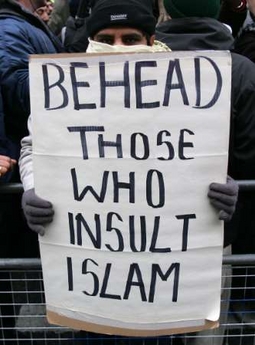 A sign at a demonstration protesting the cartoons published in a Danish Newspaper.