Suicide bombers explode in Western targets in Riyadh, Saudi Arabia
By Glenn Kessler and Alan Sipress. Source: Washington Post, Tuesday, May 13, 2003.
AMMAN, Jordan, May 13 (Tuesday) -- Explosions hit a U.S.-Saudi business and three housing compounds used by U.S. and other foreign residents Monday night and early today in Riyadh, the capital of Saudi Arabia, hours before Secretary of State Colin L. Powell was to arrive there to discuss Middle East peace efforts and the war against terrorism, according to reports from the kingdom.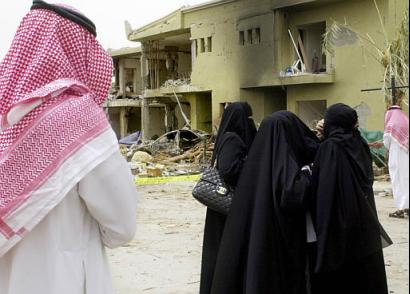 Saudi people in front of destroyed houses following suicide car bombings in eastern Riyadh, Saudi Arabia, at the al-Hamra compound. Source: http://news.yahoo.com/
The enormous blasts destroyed parked cars and knocked out the windows and doors of homes, according to a Saudi source reached by telephone in Riyadh. At least 30 ambulances were dispatched to the sites and many casualties were reported, including deaths, he said. Several people were missing.
A senior U.S. official in Washington said two Westerners were confirmed dead and six were missing, and the U.S. ambassador to Saudi Arabia, Robert W. Jordan, said on CNN that more than 40 Americans had been wounded.
Officials reached by phone at two hospitals reported treating several dozen victims. Many of the victims had been burned and were in serious condition. At least one died, they said.
At a news conference today in the Jordanian capital before he left for Saudi Arabia, Powell said he did not know who carried out the attacks, but added: "The suspects are clear though. It has the earmarks of al Qaeda."
The population in the targeted compounds is about 40 percent Saudis and other Arabs, and about 60 percent other foreigners, including Americans and Britons working in Saudi Arabia, according to a senior Saudi source. Diplomatic sources said one bomb exploded in each of the three compounds, which they identified as Cordoba, Jedawal and Al Hamra. A fourth explosion damaged the business, the Associated Press reported.
At the Pentagon, a senior defense official said that none of the targets appeared to be related to the military and that there were no initial reports of military casualties.
In Cordoba, the attackers shot their way past the compound gate, detonated a car bomb and then shot their way out of the premises, the Saudi source said. The Cordoba compound was believed to house a large number of Britons because a British school is on the grounds. In Al Hamra, some of the attackers were thought to still be on the grounds early today as Saudi security forces surrounded the compound, he said. There were continuing reports of gunfire in Riyadh this morning.
The third compound, according to the Saudi source, was believed to be in an area populated by Americans working for a local subsidiary of the Fairfax-based Vinnell Corp., itself a subsidiary of the Northrop Grumman Corp. The local subsidiary is jointly owned by U.S. and Saudi interests and has provided training to the Saudi National Guard since the 1970s.
The Saudi Interior Ministry initially said only that there were three explosions and that authorities were investigating. But in an interview published on the Web site of a pro-government newspaper, Al Riyadh, the Saudi interior minister, Prince Nayef, said suicide bombers had carried out the attacks at the three residential compounds, the Reuters news agency reported. "The three explosions that occurred in eastern Riyadh were suicide bombings," he said. "They were set off by cars stuffed with explosives that were driven into the targeted compounds."
There was no immediate indication of who was behind the explosions, but the Saudi source said the government of King Fahd and Crown Prince Abdullah suspected the al Qaeda organization.
Another senior Saudi source said: "I'm sure it was al Qaeda. I have no doubt. We have been on high alert for the past six weeks."
U.S. officials had warned of the danger of attacks against U.S. personnel and property during the war in Iraq, which was vehemently opposed in Saudi Arabia and most of the rest of the Arab world. In addition, Saudis have long chafed at the presence of U.S. military forces in the conservative Muslim kingdom, the site of Islam's two holiest shrines, Mecca and Medina.
The U.S. presence there -- several thousand troops have been stationed in Saudi Arabia since the 1991 Persian Gulf War -- peaked at 10,000 during the Iraq war. It repeatedly has been cited by Osama bin Laden, the al Qaeda leader, as a main reason for the attacks on the World Trade Center and the Pentagon on Sept. 11, 2001, and other attacks against Americans.
Recognizing the Arab world's opposition to the U.S. presence, the Bush administration announced April 29 that it would pull almost all U.S. military personnel out of the kingdom.
Nevertheless, security concerns have been heightened in Saudi Arabia in recent weeks. On May 6, Saudi security forces seized a large cache of weapons and explosives in Riyadh as they were searching for a number of suspected terrorists, an unidentified ministry official was quoted by the state-run Saudi Press Agency as saying. The official said at least 19 men -- 17 Saudis, a Yemeni and an Iraqi holding Kuwaiti and Canadian citizenship -- were being sought in connection with terror plots.
In remarks published Thursday, Nayef, the Saudi interior minister, said the men could be linked to bin Laden's al Qaeda network, which he described as "weak and almost nonexistent."
Last week a senior Saudi security official told reporters suspected terrorists were receiving orders directly from bin Laden and were planning attacks in Saudi Arabia targeting the royal family as well as U.S. and British interests. The official, who spoke on the condition of anonymity, said the prime targets were Nayef and his brother, the defense minister, Prince Sultan.
Sources said Jordan, the U.S. ambassador, recently informed U.S. business leaders in the capital that the security situation was the most dangerous he had ever seen. He warned of an imminent attack against Western interests.
Today, Powell said the United States had been concerned about the situation in Saudi Arabia and had worked with the Saudi government in recent days to address the security situation there. He said he would discuss the issue with Saudi officials during his visit, and added that the United States would "redouble" its efforts in the wake of the attacks.
In a message posted on its Web site May 5, the U.S. Embassy warned: "The U.S. Government remains deeply concerned about the security of U.S. citizens overseas. U.S. citizens are encouraged to maintain a high level of vigilance and to take appropriate steps to increase their security awareness. Credible information has indicated terrorist groups may be planning attacks against U.S. interests in the Middle East," including suicide operations, bombings or kidnappings.
The State Department warned U.S. citizens May 1 against nonessential travel to Saudi Arabia, citing intelligence that terrorist groups may be in the "final phases" of planning attacks against U.S. residents and businesses there. A Saudi familiar with the residential compounds attacked said they were each about 40 to 50 acres and have homes of various sizes, as well as common areas with restaurants, shopping, swimming pools and tennis courts. All three are protected by guard houses at the entrances that cars can only approach after weaving around barriers for about a quarter of a mile.
Suspected Islamic militants have launched major attacks on U.S. targets in Saudi Arabia twice since the 1991 Gulf War. In November 1995, five Americans and two Indians were killed and 60 people wounded in a car bombing near a U.S.-run military training center in Riyadh. And in June 1996, a bomb in a fuel truck killed 19 American servicemen and wounded nearly 400 people at the Khobar Towers housing complex, used as a barracks by U.S. service members operating Air Force flights out of the Dhahran airport in eastern Saudi Arabia.
Largely as a result of that attack, U.S. air operations were moved to Prince Sultan Air Base, 60 miles southeast of Riyadh. It was from there that U.S. Air Force officers controlled the air war against Iraq.
Sipress reported from Cairo. Staff writers Mike Allen, Susan Schmidt, Vernon Loeb, Michael Dobbs and Karen DeYoung in Washington contributed to this report.