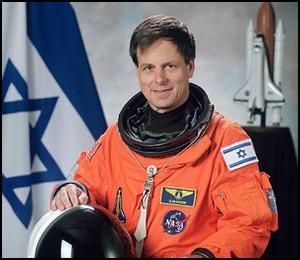 Ilan Ramon (1954-2003), the first Israeli astronaut
Born on June 20, 1954, Ramat-Gan, Israel (Parents, Eliezer and Tova Wolferman reside in Beer-Sheva).
Died on February 1, 2003 during reentry of the Columbia Shuttle into the atmosphere. Survived by wife Rona, and four children, Assaf, Tal, Yiftah and Noa.
Brief biography and mission tasks (from the Official NASA press release)
Ilan Ramon, 48, a colonel in the Israeli Air Force, is a fighter pilot who will be the only payload specialist on STS-107. Ramon received a bachelor of science in electronics and computer engineering from the University of Tel Aviv, Israel, in 1987. Ramon, as a member of the Red Team, will be the prime crew member for the Mediterranean Israeli Dust Experiment (MEIDEX), a multispectral camera that will measure small dust particles (dust aerosols) in the atmosphere over the Mediterranean and the Saharan coast of the Atlantic. He will also be working with the following experiments: European Space Agency Advanced Respiratory Monitoring System (ARMS); Astroculture (AST-1 and 2); Biological Research in Canister -Development of Gravity Sensitive Plant Cells in Microgravity (BRIC); Combustion Module (CM-2), which includes the Laminar Soot Processes (LSP), Water Mist Fire Suppression (MIST) and Structures of Flame Balls at Low Lewis-number (SOFBALL) experiments; the Microbial Physiology Flight Experiments Team (MPFE) experiments, which include the Effects of Microgravity on Microbial Physiology and Spaceflight Effects on Fungal Growth, Metabolism and Sensitivity to Anti-fungal Drugs; the Physiology and Biochemistry Team (PhAB4) suite of experiments, which includes Calcium Kinetics, Latent Virus Shedding, Protein Turnover and Renal Stone Risk; and Space Technology and Research Students Bootes (STARS Bootes).
Education
1972
Graduated from High School.
1983-1987
B. Sc. in electronics and computer engineering from the Tel Aviv University, Israel.

Military Service

1972-1974
Israeli Air Force (IAF) Flight School cadet, training as fighter jet pilot.
1974-1976
A-4 Basic Training and Operations course on Skyhawk jets.
1976-1980
Training on Mirage III C jets.
1980
Member of the IAF's establishment team for the first F-16 Squadron in Israel. F-16 Training Course at Hill Air Force Base, Utah.
1981
Participated as an F-16 pilot in bombing of the Iraqi nuclear reactor Tammuz 1 near Baghdad. This reactor was named Osiraq (Osirak) by the French who helped design and construct the reactor.
1981-1983
Deputy Squadron Commander B, F-16 Squadron.
1988-1990
Deputy Squadron Commander A, F-4 Phantom Squadron.
1990-1992
Squadron Commander, F-16 Squadron.
1992-1994
Head of the Aircraft Branch in the Operations Department of the Israeli Air Force.
1994
Promotion to the rank of Colonel.
1994-1998
Head of the Department of Operations for Weapon Development and Acquisition in the IAF.
1997
Selected as Israel's first candidate to participate in the NASA space program of the USA.
1998-2003
Started training at the Johnson Space Center, Houston in July 1998. Trained as a Payload Specialist for the Columbia shuttle space flight STS-107.
2003
STS-107 Columbia space flight (January 16 to February 1, 2003) for 15 days, 22 hours and 20 minutes in space.

Decorations

1973
Yom Kippur War
1982
Operation Peace for Galilee
1992
F-16 1,000 Flight Hours
Ilan Ramon, z"l perished on February 1, 2003 with his crew friends during reentry of the Columbia shuttle, 16 minutes before scheduled landing. He was buried in Nahalal Cemetery on February 11, 2003.
This biography is based on official information obtained from the Israeli Air Force (IAF) and U.S. NASA.