Ilan Ramon's crewmates
By Philip Chien. From Jerusalem Post, February 3, 2003
As far as his crewmates were concerned Ramon was part of their team. Willie McCool said "We as a crew have embraced Ramon because he's a wonderful individual, regardless of nationality. He's a true pleasure to have around. He's a hard charger - wonderfully warm and personable. We've come to embrace and love Ilan."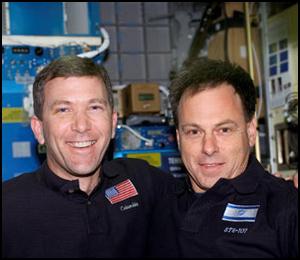 Rick D. Husband, STS-107 mission commander, and Ilan Ramon, in the SPACEHAB Research Double Module aboard the Space Shuttle Columbia.
Kalpana Chawla said "Knowing Ilan is truly a privilege. He is easily one of the best people, if not the best person, I've met and worked with. I've learned tremendously from him. He puts all into the task and is very professional and excellent. He has this sense of humor where he makes fun of himself." Chawla noted Ramon has a good sense of humor, saying "In one of our simulations there's a bicycle where you're supposed to exercise. In our simulator we do not have the real bike. Somebody for fun brought a kid's tricycle and Ilan was there sitting on this tricycle with the gear on his nose and face - he was just following the procedures, simulating it."
Mike Anderson said "Ilan's a great guy - he's very calm, very cool. He's hard to upset, he's got a very calm nature about him. Very confident, very easy going. I'm hoping when we get to space and he's exposed to microgravity for the first time that it throws him a curve so I can see
him show some expression of surprise. He's such a level headed well prepared individual it's hard to imagine anything surprising. Maybe spaceflight will be a surprise for him."
Commander Rick Husband noted "Ilan is much more than a payload specialist. He's working as many payloads as anybody else on the flight, he's gone through a significant amount of training. I would say he's probably one of the best trained payload specialists we've ever flown. Ilan is fully integrated in to every aspect of the mission, he is not an observer, he's a full member of the crew in every way."
Ilan feels the same way about his crewmates. Before the much delayed launch he said "I have a lot of patience and to be with these magnificent crewmembers is a pleasure. I don't want to be delayed again, but I'm sure we'll have a wonderful time together as we have in the last two and a half years of training."
Copyright 2003 by Philip Chien, Earth News