American Beheaded on Web Video
Related resources:
Update: The grisly video of Nicholas Berg's beheading was hosted at www.al-ansar.biz . This site was hosted at an Internet company in Malaysia, a member of the Islamic countries federation. Upon learning that the site was connected to Al-Qaida, the internet company shut down the website.
By Sewell Chan and Ariana Eunjung Cha. Washington Post Foreign Service. Wednesday, May 12, 2004.
BAGHDAD, May 11 -- A 26-year-old Pennsylvania businessman missing in Iraq since early April was shown being decapitated by five masked Islamic militants in a fuzzy video posted on the Internet on Tuesday. The militants claimed in the video that the grisly killing was in revenge for the abuses suffered by Iraqis at the U.S.-run Abu Ghraib prison near Baghdad.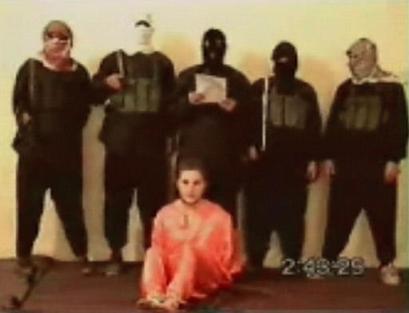 This is an image made from a video posted Tuesday May 11, 2004 on an Islamic Web site affiliated with al-Qaida showing a group of five men wearing headscarves and black ski masks standing over a bound man in an orange jumpsuit, who identified himself as Nick Berg, a U.S contractor whose body was found on a highway overpass in Baghdad on Saturday. (AP Photo via APTN) From: http://www.yahoo.com/
In the video, Nicholas Berg, of West Chester, Pa., outside Philadelphia, was shown sitting on the floor in an orange jumpsuit, with his black-clad captors standing behind him. After reading a statement saying they sought to avenge the suffering of Iraqi prisoners at the hands of U.S. soldiers, the men decapitated him.
The grisly slaying, reminiscent of the killing of American journalist Daniel Pearl in Pakistan in early 2002, is likely to send new waves of fear among the thousands of foreign contractors and entrepreneurs who have been lured to Iraq by the promise of financial opportunity and a chance to rebuild its war-ravaged infrastructure. Dozens of foreigners have been kidnapped over the past month, but nearly all were released.
U.S. officials said they could not verify the authenticity of the video. The U.S. consular officer in Baghdad, Paul Boyd, told Berg's family in a phone call Monday that he had been decapitated and that his body was found on a highway overpass outside Baghdad over the weekend, Berg's mother said.
The undated video, posted on the Web site of Muntada al-Ansar, an organization with ties to the al Qaeda terrorist network, attributed the crime to Abu Musab Zarqawi, a Jordanian accused of organizing attacks against occupation forces in Iraq. Zarqawi has been sought by U.S. authorities since last year in connection with the killing of an American diplomat in Jordan.
A message, "Abu Musab al-Zarqawi slaughtering an American," flashed across the video in Arabic. The video did not make clear whether Zarqawi was one of the masked men or had only ordered the killing.
Berg was in restraints but appeared calm. "My name is Nick Berg, my father's name is Michael, my mother's name is Suzanne," the man says on the video. "I have a brother and sister, David and Sarah."
One of the men read a statement in Arabic, saying that they had offered to exchange Berg for several detainees at Abu Ghraib but that U.S. authorities had refused.
"So we tell you that the dignity of the Muslim men and women in Abu Ghraib and others is not redeemed except by blood and souls," the man says. "You will not receive anything from us but coffins after coffins . . . slaughtered in this way."
The men then put a large knife to Berg's neck as he screamed, according to news service descriptions of the end of the video. They shouted "Allahu akbar," or "God is greatest," before decapitating him and holding his head up to the camera.
Suzanne Berg said in a telephone interview Tuesday afternoon that she had not viewed the video. "I don't know if I want to see it," she said. "It's just so awful."
Nicholas Berg came to Iraq hoping to win a contract to help rebuild communications antennas destroyed during last year's invasion. Several other entrepreneurs have been killed recently, hampering the American-led effort to revive Iraq's sluggish economy and war-battered infrastructure. A Danish businessman was found dead last month, and two Finns were shot to death during a business trip in March.
Gunmen attacked a convoy of American contractors in western Iraq on Tuesday. Wendy Hall, a spokeswoman for Texas-based Halliburton Co., said the convoy was run by a subcontractor working for KBR, a Halliburton subsidiary that has a major contract to supply the Army in Iraq. Hall said all the drivers in the convoy had been accounted for.
Additional quotes from CNN article on the same event
The one standing directly behind Berg reads a statement identifying himself, and then Berg is pushed to the floor.
Berg is heard screaming as his throat is cut. One of the captors then holds up his severed head.
"For the mothers and wives of American soldiers, we tell you that we offered the U.S. administration to exchange this hostage for some of the detainees in Abu Ghraib and they refused," the hooded man standing behind the American said just before the killing.
"Coffins will be arriving to you one after the other, slaughtered just like this."
White House spokesman Scott McClellan told reporters, "this shows the true nature of the enemies of freedom. They have no regard for the lives of innocent men, women and children."